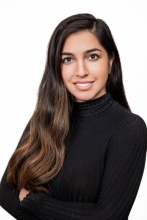 Senior UI Designer at ImageX Media
Mahya Golabi is a Senior User Interface Designer who designs with conceptualization and usability in mind. She believes creating an easy and effective UI, no matter how challenging, is the ultimate goal of great user experience. 
Mahya has experience in both agency and freelance environments. She has managed and creative directed design projects with tight deadlines for clients in tech startups, health & medical, real-estate, and hospitality industries. She is always pushing her limits and keeping up with the latest trends in design and tech. Mahya believes her deep passion with design as well as her management skills, knowledge of code and web development is what sets her apart. She also holds the Interactive Design Foundation Accessibility Certification.